November 11, 2022. The first meeting of  Coordination Committee.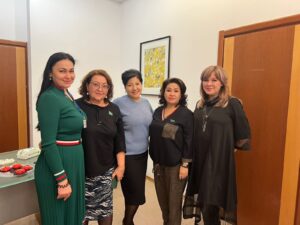 The first meeting of the Coordination Committee of the "Umay" Project: Increasing an access for women from key populations to basic anti-violence services took place today at the CSPI office (https://cspisf.org). The main tasks of the Committee will be developing strategies and proposals based on the project data to be submitted to the state and public bodies.
"Umai" will provide opportunities to collect strategic data on the prevalence of various forms of violence among women from different key populations, allowing for more targeted and effective assistance. Many thanks to Elena Bilokon who helped to assemble such a stellar panel of the Committee!!!  Thanks to Almaty City Akimat, Almaty Department of Public Health, and all the outstanding women- experts in gender issues who want to contribute to our project! I'm sure that we can achieve a lot with such a team!!!!
The following specialists have joined the Committee:
Zulfiya Baissakova, Director of the Crisis Center for Domestic Violence Victims Almaty City, Department of Employment and Social Programs,
Elena Bilokon, Head of the "Revanche" Public Fund, Almaty city
Aida Alzhanova, Chairman of the PF ADAM DAMU, Gender Expert Almaty city
Natalya Rakhalskaya, President- Public Association "Kazakhstan Association on Sexual and Reproductive Health" (КMPА), Almaty city
Nazira Togyzbayeva, Head of the Department of Employment and Social Programs for Almaty, Almaty city
Rahilam Makhpirova, Head of the Social Responsibility Department, Almaty city
Altynai Kobeyeva, Chairman of the Public Council, Deputy of Almaty Maslikhat, Director of PF "Information and Resource Center, Almaty city
Sana Zhandai, Member of the Commission on Women's Affairs and Family and Demographic Policy under the Akim of Almaty, Almaty city
Irina Smirnova, A deputy of the Majilis of the Parliament of the Republic of Kazakhstan, Almaty city
Akbota Abylkassimova, Senior Inspector for organization of IAB PWV PD (Internal Affairs Bodies to Protect Women from Violence) for Almaty city
Assel Zhatkanbai, Voluntary Initiative "QORǴAN", Almaty city
Akbope Abylkassimova, Member of the Coordinating Council of Women's Forces Alliance of Almaty, social activist Almaty city
Sagadat Sabitova, National UN expert on gender issues. Ambassador of Peace, Almaty city
Natalya Zholnerova, Director of Public Association "Amelia", Almaty oblast
Aigul Kadyrbaeva, Program Manager PF SAF (Social Aid Fund) "Revanche", Almaty city